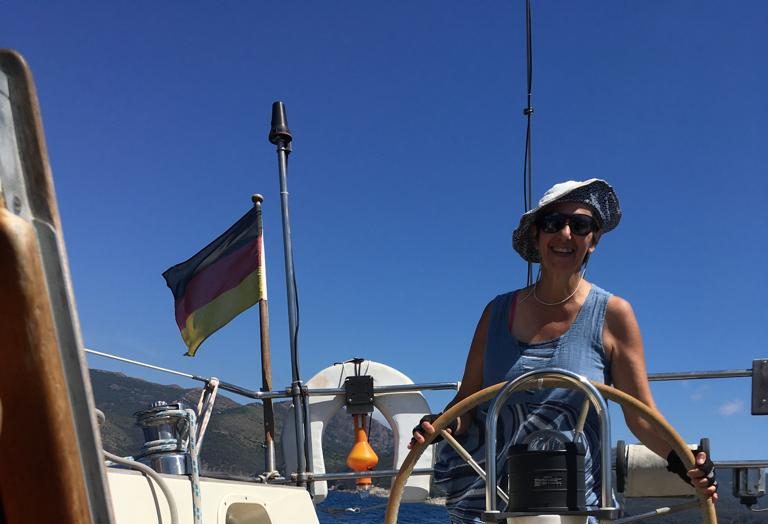 Must have: hat, sunglasses, sunscreen&aftersun, swimsuit, beach towel, boat slippers or flip-flops, non-slip socks or cheap sneakers (clear sole, possibly), light waterproof jacket, fleece jacket for the night, water bottle.
Recommended: half finger gloves, diving mask, white t-shirts (possibly oversized), light neck-sweater, battery pack and waterproof sleeve for the cell phone, headlamp, xamamina (anti-seasickness medicine), light sleeping bag
Buechi-yachts will provide bath- and hand-towels (1+1 to each participant), as well as bed (berth, in fact) linen. You might like to bring a light sleeping bag, to be possibly used as a blanket, should the nights be colder than expected. Do not bring generic soap: we will try to have special eco-friendly soap onboard, and you we will be encouraged to use the least soap/shampoo/shower-gel during Qsail23.
More details:
Do not bring fins, unless you absolutely need them to swim. Be sensible about your clothing: think about what you would wear if you were at the seaside. Avoid rigid suitcases, they are difficult to store in the cabin, use only soft bags that can be easily folded. There is a drawer in your cabin where you can store your stuff. The outside of the boat is full of navigational equipment that can hurt your feet if you hit them (especially on rough seas) so bring some inexpensive sneakers to protect your toes (decathlon). Sandals are really not a solution onboard (rather a problem), but are useful when we deboat. All shoes should have a white sole to avoid leaving marks on the boat surface and take extra care to not bring stones under them. Imagine you are on a seaside: bring a big towel for outside activities and a smaller one for washing (prefer microfiber). Don't forget your sunglasses (polaroids protect against reflections too), lotions, sun protective cap with a retainer against the wind, one more cap to substitute the eventually dropped one 😉 , light waterproof jacket against wind, rain and sprays and a pullover for the night (it might be surprisingly cold and humid). Always prefer clothes that dry fast (fleece and synthetic, rather than cotton). In May the clothing onboard could be just a swimsuit and a shirt (eventually long sleeve to protect from the sun). Don't bring too much stuff: the space is limited (one -soft- bag should suffice). The boat has USB chargers but they might be limited in number and availability so bring your external battery pack for safety. There should always be mobile signal apart from the most remote places or if we decide to sail very far from land but never count on it. The boat has plenty of lights inside but a headlight might be useful at night outside (external lights are typically lacking and you want your hands free). If you need to buy one make sure it has a red light: it doesn't impact your night vision. Mark everything you think to leave around. It's wise to buy a pair of those inexpensive sailing gloves to protect your hands during the maneuvering of lines (decathlon) if you like to help and learn sailing (the marine salt on the lines might hurt).
You should expect to share a toilet with somebody so keep it clean and tidy and bring your washing stuff to the minimum. The toilets are very small but very well designed to allow a comfortable operation. Each toilet has a shower inside but because the amount of freshwater in the tanks is limited it shouldn't be used for long (there is hot water too if the engine has been running recently but of course it's limited too).
The WC can be operated by a lever that pumps sea water in and out alternatively (sometimes there is an electric motor so buttons instead). They are surprisingly efficient and clean. The skipper will teach you how to use them. On most boats it is forbidden to throw any paper in the toilet to avoid it being clogged (a dreadful situation). It depends on the toilet mechanics but you should be very careful anyway. The most modern boats have a sewage tank to be emptied on ports, the others just discharge on sea directly, so it's better to avoid jumping into the water after lunch time and always ask if it's ok 😉
Using the toilet while sailing can be troublesome (not impossible though) so I recommend that males pee sitting down: it's much more comfortable, easy and also clean. When the boat is heavily inclined (typical on sail) using the WC is not possible and if you are in need you should let the skipper know.
Bring your personal canteen: it's a practical way to get your own water around and you don't have to mess with shared bottles and cups (make it small and thermoisolated, mark it with your name).
If you think you might have a problem with low pressure or extreme heat (the sun on a sailboat can be brutal) or seasickness, bring your own medicines (xamamina is recommended for seasickness).
Internet/laptops/extra stuff: we'll be at sea, where cell phone coverage will be inconsistent, so don't count on it. Nonetheless, the coverage is pretty good in the area, especially when out at sea. We'll probably have internet: Italian participants may be able to share their internet access through their cell phones but, again, don't count on it. Bring your laptop at your own risk: even though we won't be sinking (hopefully), boats are notoriously damp and slippery, not a good environment for laptops (or cell phones: a waterproof cover for your cell might be a good idea). You will be able to leave extra stuff at Portoferraio to collect it at the end of the workshop.
You would not live a plentiful experience on a sailing boat without trying to learn how its magic works. If you are willing to you will be able to drive at the wheel, set up sails and even set and maneuver the spinnaker (that enormous colorful balloon shaped sail)!
See you all and be prepared to have fun!